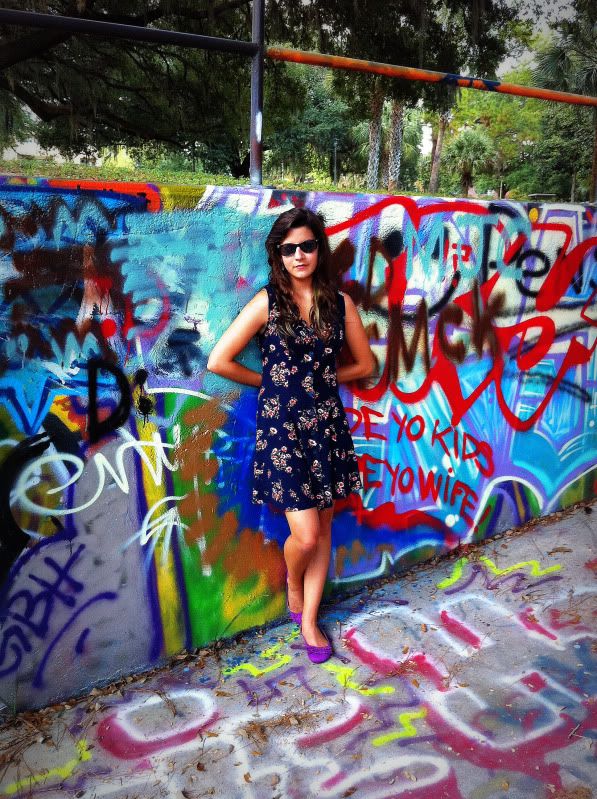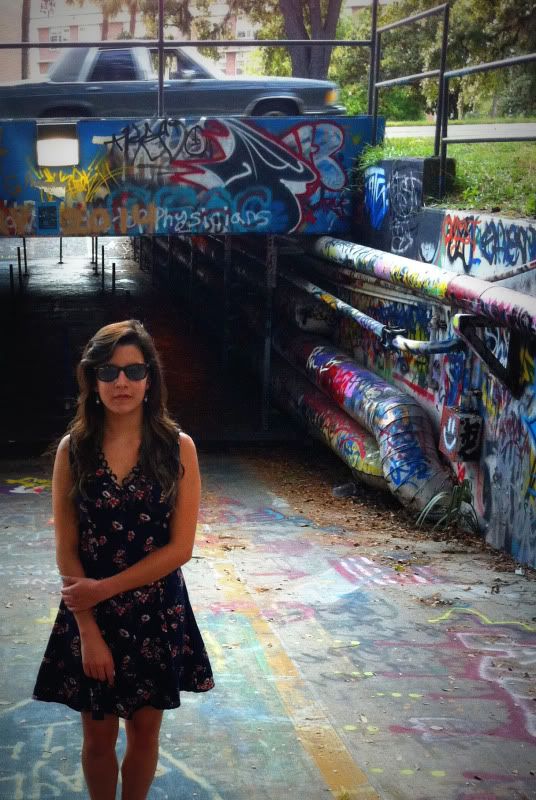 (photos by Cliff, wearing a dress from Goodwill and sunglasses from Target)
It's a getting-used-to process. A transition process. A process of the process of the process.
It's finding familiarity in the unfamiliar, structure in the unstructured, balance in the imbalanced.
It's getting used to inhabiting a small space with two other living beings, it's getting used to the hair-ridden dorm showers and the girl who blasts Ke$ha at three o'clock in the morning.
It's getting used to going to the bathroom at the same time with people you pass by everyday in the hall but don't know their names.
It's the dent in the ceiling that says, "Julia's head 10/14/06", it's the hippie professor that brings his guitar to class and goes into a face-melting solo, it's the mace you clutch in your hand when you walk back to your dorm late at night after the concert has ended.
It's the 100 page textbook homework, the Hare Krishna karma-free lunch, the essays, and the late night runs to Mochi for frozen yogurt.
It's when your dorm is an ice box and outside is the Sahara desert, it's meeting strangers and getting asked the exact same questions over and over again, where are you from, what year are you, what dorm are you living in, what major are you studying.
It's the winning football games, the laundry mat, the band flyers, the after parties, the smell of microwave dinners, sitting out on the lawn, the eccentric projects your art class assigns, the walks across campus in the rain.
But ever so often, the lack of privacy gets under your skin and you feel suffocated by the discrepancy. Sometimes all you want is a quiet place to curl into yourself and be alone, not feeling the eyes of others or hearing their stale conversations. But then, in that forlorn silence, when all you have is your barren thoughts and your soft heartbeat, you want nothing more than company. And you crave that connection to the fleeting, single-serving strangers you have become accustomed to. So you go out and seek it, and you find beauty in the small universe that you have become embedded into.
This is college. And I couldn't be happier.
Carpe deim. Joie de vivre. Hakuna matata.