There was a furry creature in the girl's dorm bathroom.
"Oh, god, that's just gross." I quickly backed out of the shower stall, placing as much distance between myself and the hairy monstrosity that lay tangled in the drain.
Each stall was its own germaphobic torture chamber; soap scum, hair (of different sorts), abandoned razors, and cloudy puddles of god-knows-what. I settled for the one least likely to contain some sort of fugus.
My floor's RA made it her policy to leave a small radio turned on in the bathroom to make the watery, hair-ridden dungeon more bearable, but it did little to calm my nerves.
"…there's a place downtown where the freaks all come around, it's a hole in the wall, it's a dirty free for all…" Ke$ha croaked on the radio.
To say the least, I'm not exactly a Ke$ha fan. "Dear god, just turn it off," I mumbled under my breath as the cold water tumbled down my back.
"…take it off, everybody take it-" *click* The radio was suddenly silenced.
"Thank you, kind stranger!" I said from behind the shower curtain. I finished scrubbing in the shower and hurried to get ready for class.
The weather was beautiful today. It was perfect cardigan-wearing-warm-coffee-drinking-watching-the-sun-filter-through-the-darkening-leaves kind of weather. You forget how pretty natural light is after staring at computer screens for too long.
I sat stretched out on the lawn in front of the library, enjoying the sunshine and watching college students going to and fro across the plaza.
"I just…I just feel like there's no chemistry anymore. I mean, I feel bad cheating on him, but what else could I do?" a voice behind me said. I sat on the grass, slowly chewing my lunch as I tried not to listen to the girl sitting next to me telling her friend about her recent adulterous behavior.
With so much activity going on around you, it's hard not to eavesdrop on a college campus. You catch snippets of every day conversations everywhere you go; people talking on cell phones while walking to class, muffled voices leaking out of dorm rooms as you walk down the hall, conversations occurring while waiting in line.
However, I find it oddly comforting knowing that people are doing mundane social things. You always get that feeling that no matter where you go, people are having a good time, people are interacting, people are making new connections with single-serving or long-lasting friends. It's not like high school, where the scent of loneliness and insecurity reeks everywhere you turn. Even when you're alone, you know that there are people back home missing you and loving you, and you know that there are people here that want to enjoy one another's company.
It is hard to be unhappy here.
I brushed the leaves off of my messenger bag and trudged back to my dorm. I sat atop my bunk bed, absentmindedly staring out the window. A couple was kissing under the nearby streetlamp. Like watching a silent film, I watched as they said their goodbyes before engaging in one last embrace. It made me wonder how many times my own narrative has coincided with others, how many times I've been the subject of someone's wondering eyes, how, at times, I've made a cameo appearance in the lives of strangers.
You leave bits and pieces of yourself, drifting awash in the flux of humanity. But when the paradigm collapses, what do you truly leave behind?
…
This is the longest I've gone without writing a blog post and I feel terrible for being so absent from the blogsphere. If this blog was a neglected Tamagotchi pet, it would probably be dead by now.
So what has Where for Art Thou Romeo been up to? Well, I've been devoting most of my time and effort to various academic creative endeavors and, not to mention, engaging in social activities and gatherings pertinent to the college experience.
However taxing, I've been enjoying all of the assignments from my art class (W.A.R.P.) and here are some of the projects I've completed this semester:
The class was divided into groups of three and each group worked on a collaborative mural.
My group's mural was titled, "Only Human" and it was meant to be a critique of technology's effect on society.
Here was the installation at the W.A.R.P. Haus art gallery: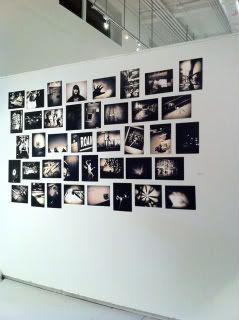 In addition, I was a finalist for the Gainesville City in Motion Photography contest with my photograph, "Afternoon Cycle".
The other finalist's photographs can be seen
here
.
I also directed, edited, and composed the music for a short film called "Malaise".
As you can see, it's been a busy first semester for me at the University of Florida. I hope to post more frequently over Winter Break. Until then, happy holidays!